How to Create an Instant PDF Invoice
23 / 12 / 2019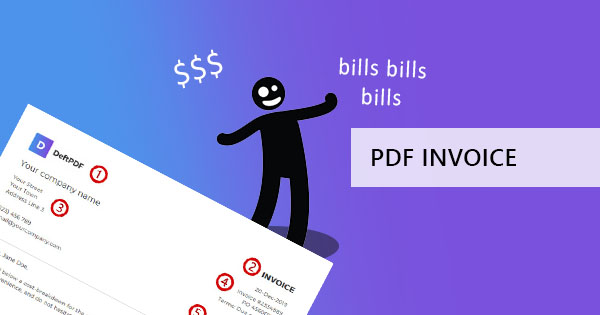 Invoices. By definition, these are the billing statement that shows the services and products provided but not yet paid by the customer. Invoices were created to sort out what is due in a form of a list, as stated by the supplier. In modern times, a digital invoice is now widely accepted and can lessen paper documents, therefore, keeping it simpler to organize. Creating a digital PDF invoice is easy as long as you know how and what to put.
Part of an invoice: The essential elements
While there is no distinct rule on creating your invoice and how it should look like, there are critical elements that affect the impact and keep the company strong. This ensures that the service or products are paid but if it does not happen for you, then you might think twice about how professional your invoice looks. The elements that make your invoice powerful, clear and effective to be seen and heard by your customers are broken down into 10 parts, which can instantly be created for you by a PDF invoice maker.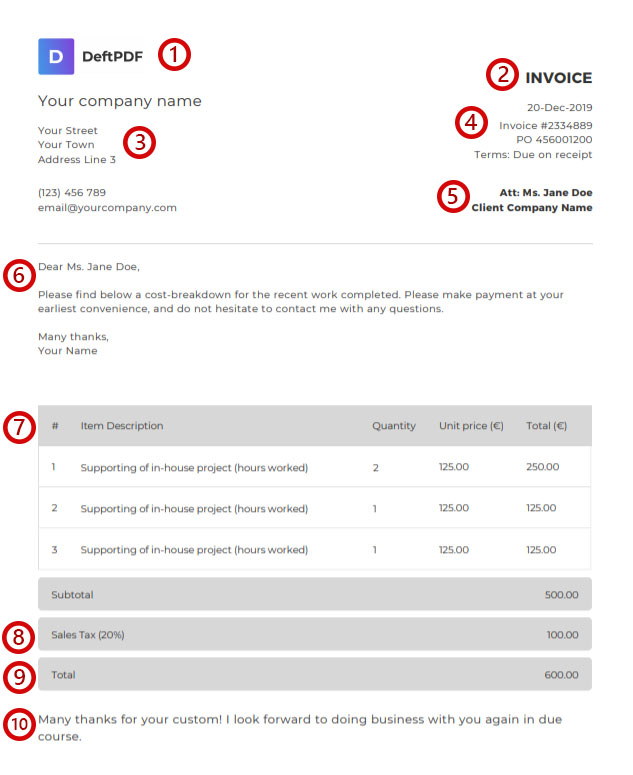 1. Header: Company Name
A header is one of the most crucial parts of an invoice. It should stand out, be bold and can easily be noticed by the reader. A loud, clear and distinct header at the very top shows your readers what this document is all about. We highly suggest that this header be a company logo and your company name.
2. Header: Document Label
Have you noticed that most billings have this huge "Invoice" sign on the very top? Having a huge label on the very top of the document saves readers and creators time when organizing and finding documents. Trying to figure out what this document is all about can be flashed in just one word and it will always remind your clients what needs to be paid. This label is still part of the header.
3. Company information
Add your company address, phone number, and email below your company name. This helps your receiver to easily contact you if there is a problem or an inquiry with your invoice. Other than that, its also a branding bonus as it reminds your clients about your company, which leads to the possibility that they will re-order from you.
4. Invoice number and date
An invoice number is an identifier for you. This becomes the label that could separate it from the other billings. It could help you distinguish repetitive billings and avoid confusion on what's paid and what's not. Most invoice numbers are printed out in chronological order. If there is a corresponding purchase order number (PO number) to that invoice, that number should be included.
Additionally, a date and a due date should be added near the invoice number. This makes it simple to determine payments due and services already rendered, helping you remind the clients of what needs to be paid without the actual process of conversing. Of course, not all due dates stamped are being followed by all customers but you'll be surprised at how prompt some customers pay when a due date is presented.
5. Client's name
Make sure to add your client's company name and the person in charge on the invoice. The person could be the owner, the project manager that contacted you or the person in charge of finance. Adding this will help sort this out on the receiver's end.
6. Terms and condition
While most invoices don't actually include this, it's always good to add one to personalize and customize the invoice. In this portion, you can make a casual letter that reminds the customers or you could add your terms agreed. Include important points that should be apparent to restate the contract like penalties, due dates, additional services, freebies etc.
7. Itemized Products/Services
The products and services that were sold should be written in a list form. This format ensures that the goods are presented in a clear and concise way, making it easy to understand. More often, companies include the particular item (or item name), quantity per item and price. If items seem similar, it is also advisable to add the product code beside its name.
8. Taxes and fees
A mandatory fee that is usually imposed by the government, the taxes applied to your business should always be shown on your invoice. By providing the breakdown of these fees, you are able to show the allotment of cost. Remember, each country has different tax implementations and affect different kinds of products.
9. Total amount
Pointing out the total amount will always help you with obtaining the payment. A clear prominent amount can be a reminder or a reference point. Save your client some time. Make a statement by showing the total.
10. Unique Thank-you Note
Be different. Make a thank you note at the end of the invoice and make sure it's personalized so that your customers feel like a VIP. This ensures that your relationship with your client is retained.
You can actually create your own PDF invoice in an instant using our PDF tool here at DeftPDF. Just simply go to our Invoice tool and modify the details as needed then download your work to save it on your computer! Try it here: PDF Invoice Generator
Want to get updates and subscribe to our blog? Get weekly e-notifications by creating a free account with us:

DeftPDF

online