How to Upgrade with DeftPDF
01 / 2 / 2022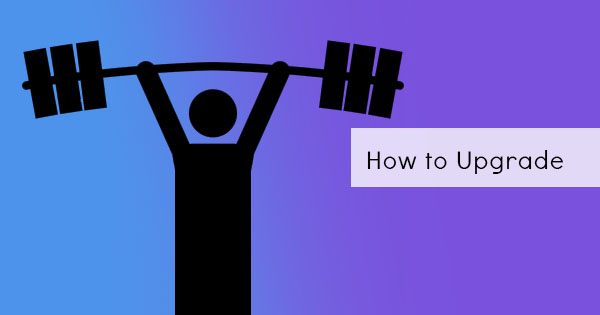 DeftPDF is a user-friendly web-based PDF editor and converter that works for Windows, Mac, and Linux. It can also work for any type of device since it is web-based and only needs a browser to work. When you are using DeftPDF online tools, you will not need to install anything offline nor do you need any plug-ins. You can use this online tool directly and can help you edit, convert, merge, compress, split, watermark, n-up, bates number, sign, and crop your PDF for free.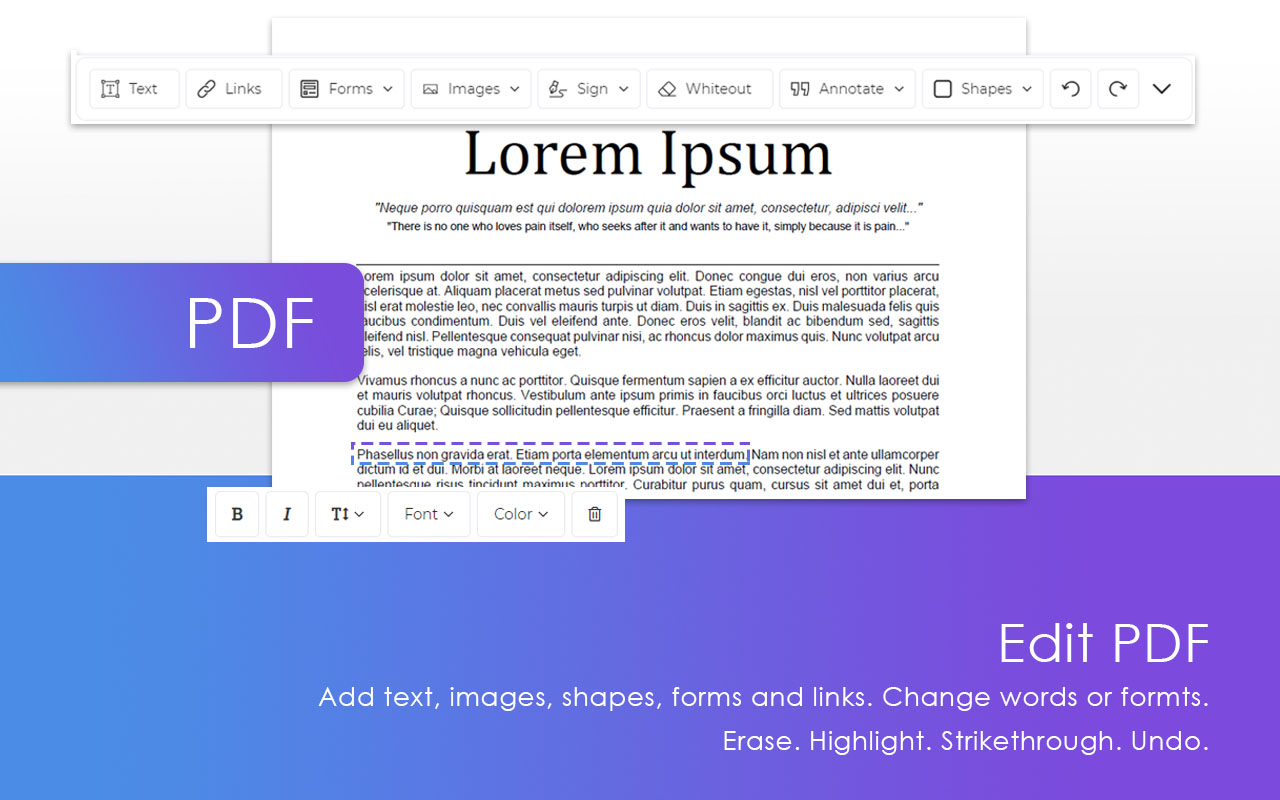 Pros of using DeftPDF online
1. Easy to use
All tools at DeftPDF can be used without the need for tutorials because it's so easy to use and navigate. You only need to click convert and download the file when the processing is complete. Each tool is provided with a guide in case you have some questions about how to use the tool and if there are more questions unanswered with tutorials, you can always send an email.
2. Safe and Secure
Uploaded files and processed outputs are automatically deleted after 4 hours. This is how safe and reliable we are at DeftPDF. There's no need to worry about your file lingering on someone's server. Additionally, our servers are all secure and encrypted so all files stored are guaranteed safe.
3. Supports all platforms
As a web-based online tool, DeftPDF can operate on all kinds of devices and platforms including Mac, Linux, and Windows. As long as the tool has a browser and is connected to the internet, you can use the tools without any problem.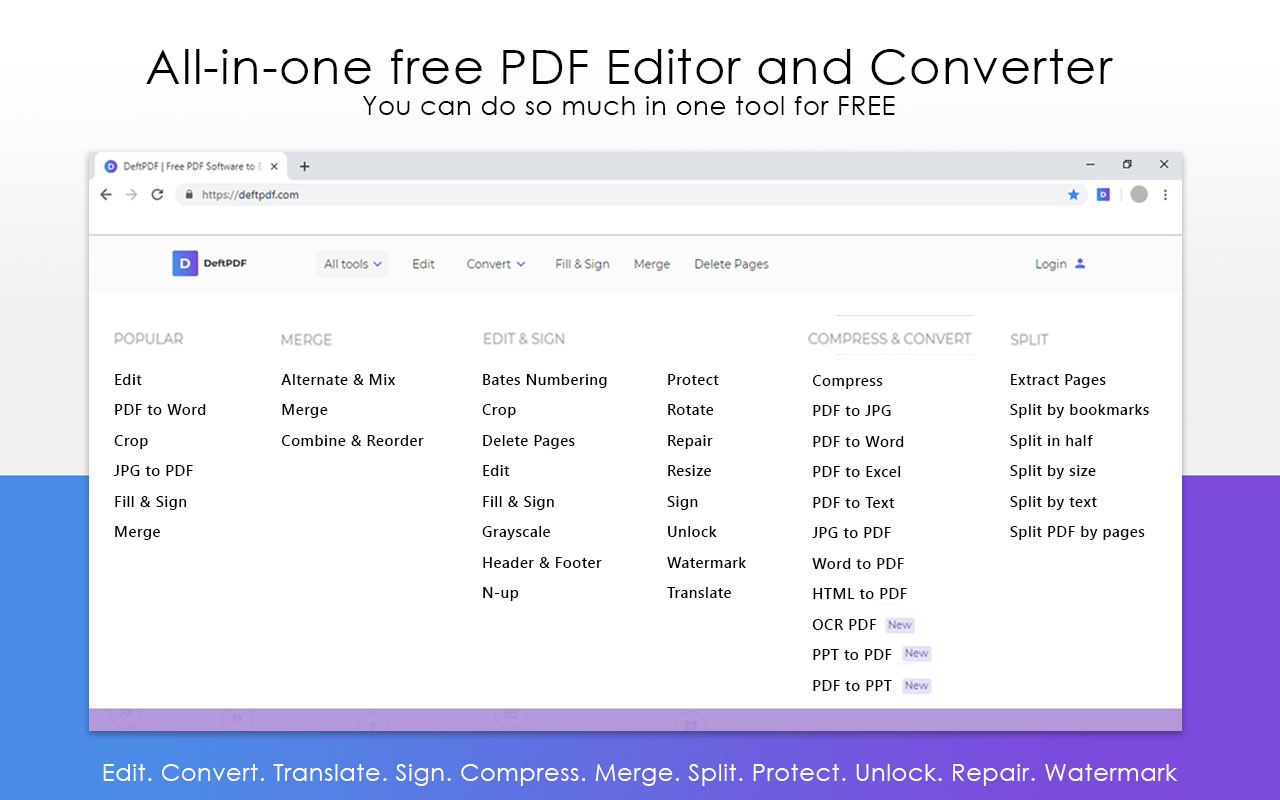 4. Supports OCR
OCR is one of the most important technologies that can help you fix scanned PDF files into searchable and machine-readable files. You can extract text from image-based files and quickly get accurate content.
5. Integrates with cloud storages
DeftPDF allows you to extract files from your online storage straight to the online converter or editor tools. You can also download and store the output results straight to your online storage such as Dropbox or Google Drive. URL links are also supported for uploading and can also directly be converted or edited once the web address link is provided on the tool. This makes PDF management much more convenient for anyone as it removes a few steps on your tasks.
6. Free for all
Most online PDF editors and converters are also free but they are free for a limited time, the quantity of files, or limited access to tools. At DeftPDF, we provide all tools that are completely free to use unlimitedly – meaning you can convert as many times as you like, edit your file frequently without any limits, and manage your PDF files without worrying if the time is up! DeftPDF is an online PDF tool that values freeware and knows that every user has the right to use a free format. You don't even need to register or create an account, you can start using the tool straight away.
Cons of using a free account
DeftPDF is positioned not only as a converter but also as a PDF editor and translator. DeftPDF has a simple user-friendly design with 40 different online tools that are all easy to navigate. Best of all, using it as a freeware does not affect the output quality, therefore no files are reduced or affected. The only cons you can think of for this tool is the fact that it does not have an offline application yet.
While all tools are free to use unlimitedly, each tool is limited to one file at a time so it is recommended for users to upgrade if they need to do more out of the tools, such as batch processing and bulk conversions. Free accounts are also limited to 50MB per upload and have a lot of ads that can actually affect processing time.
How to upgrade
Upgrading is very simple at DeftPDF and with our straightforward plan, there's no reason to get confused on which can apply to you. Just follow this simple guide to upgrade on our site:
Step one: Click the UPGRADE button on the upper right corner of our home page. It will redirect you to the pricing page.

Step two: Click select the upgrade option.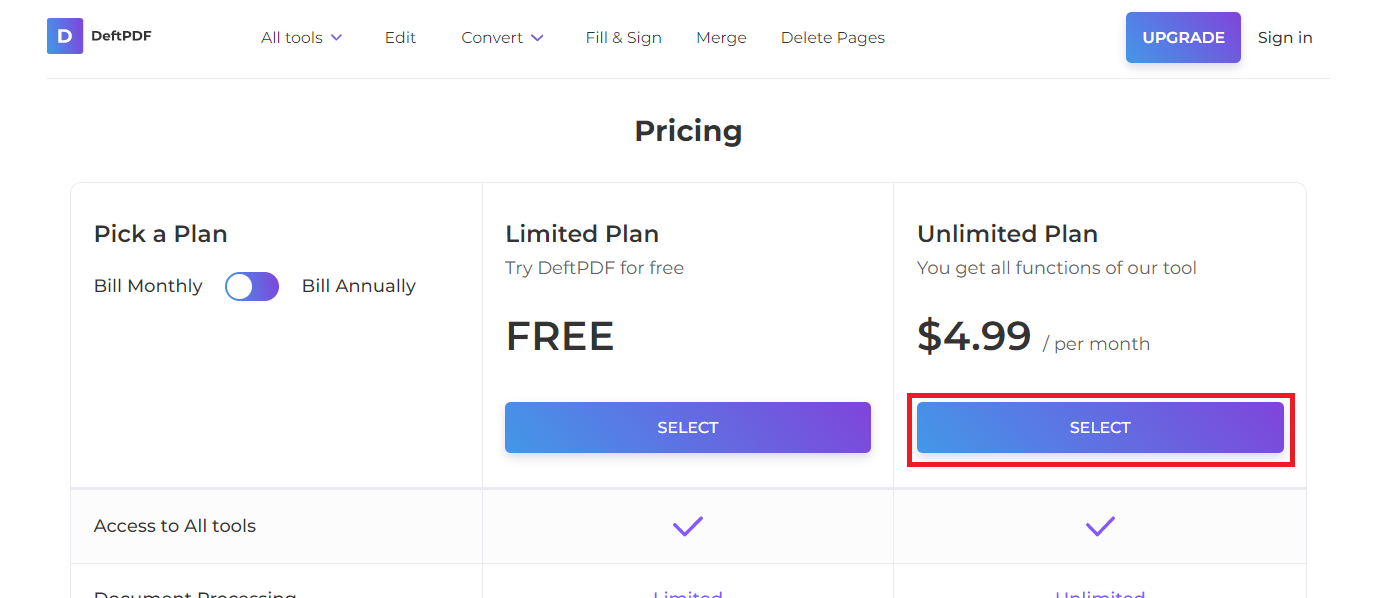 This will now redirect you to log in. If you don't have an account yet, you can click the link below the password textbox that states "You do not have an account?" then create your own account by entering your name, email, and password.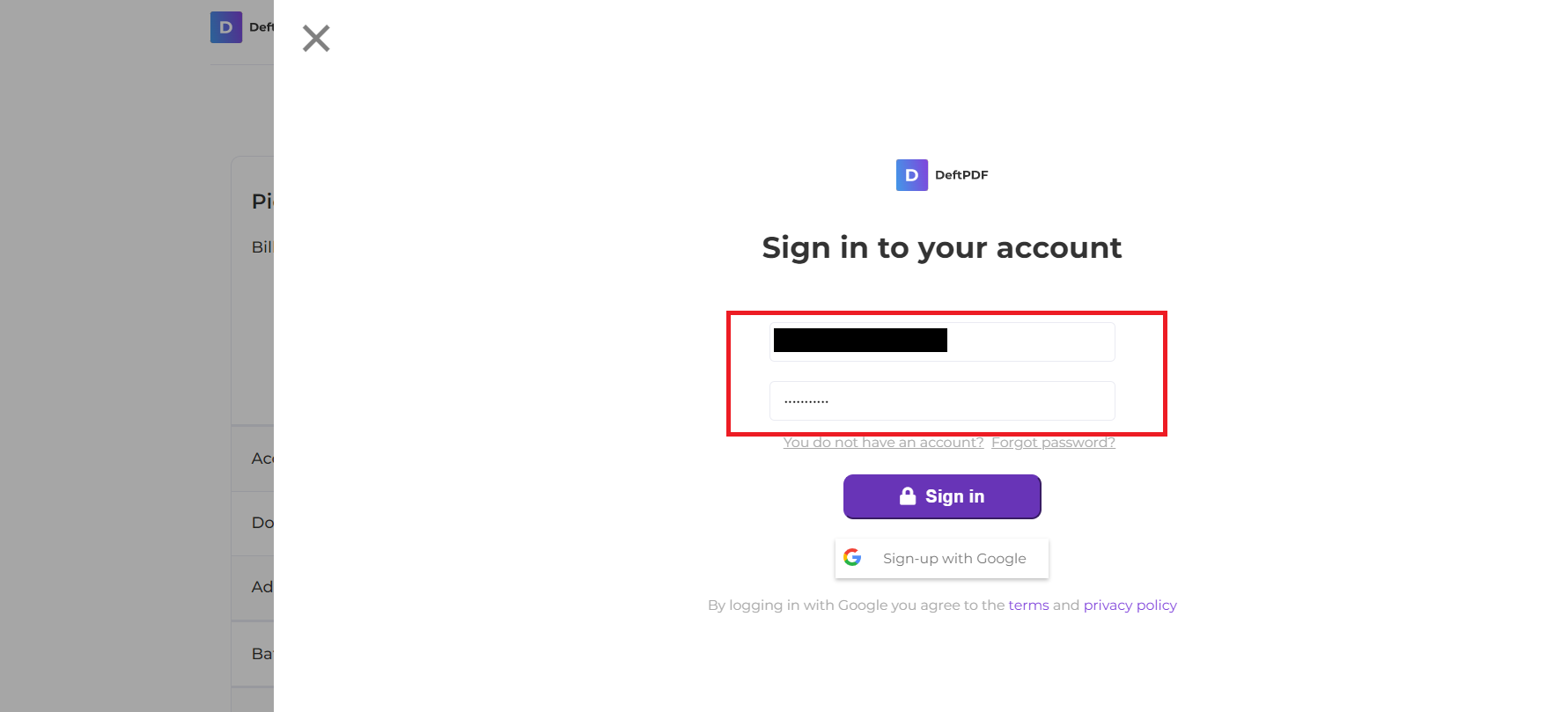 Step three: Once logged in, you will be asked for your complete name, email address, and credit card information. Please input the same email address you have used to create your login account. Then click submit payment once the information is complete.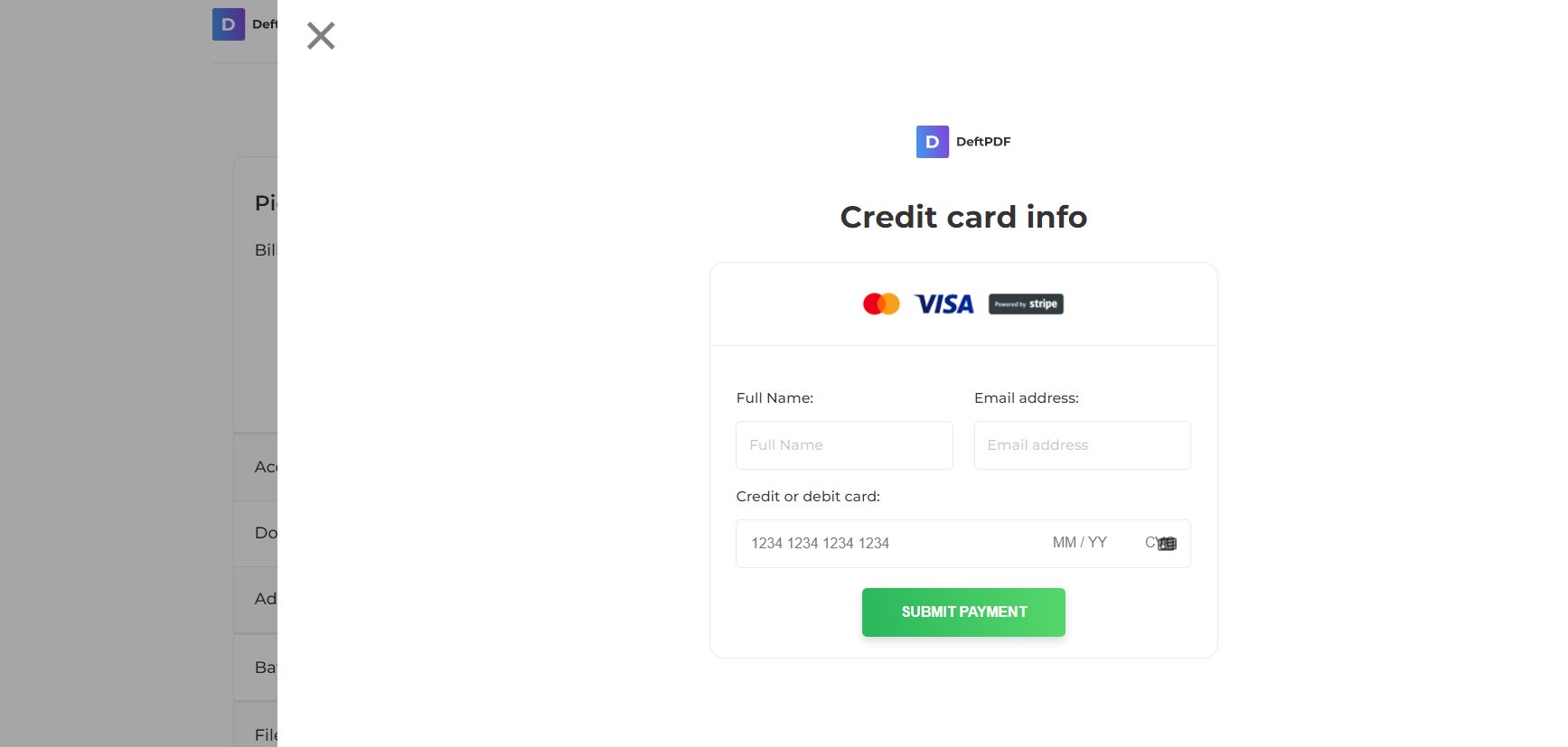 How to update account information
If in case you want to change some details on your account, you can always do so by simply logging in.
Step 1: Click your name in the upper right corner to open the account details.
Step 2: Changing Name and Photo
Select Settings under My Account

Enter your changes into the appropriate fields. Currently, you cannot change your email address as it holds all account information.

Click Upload to add your image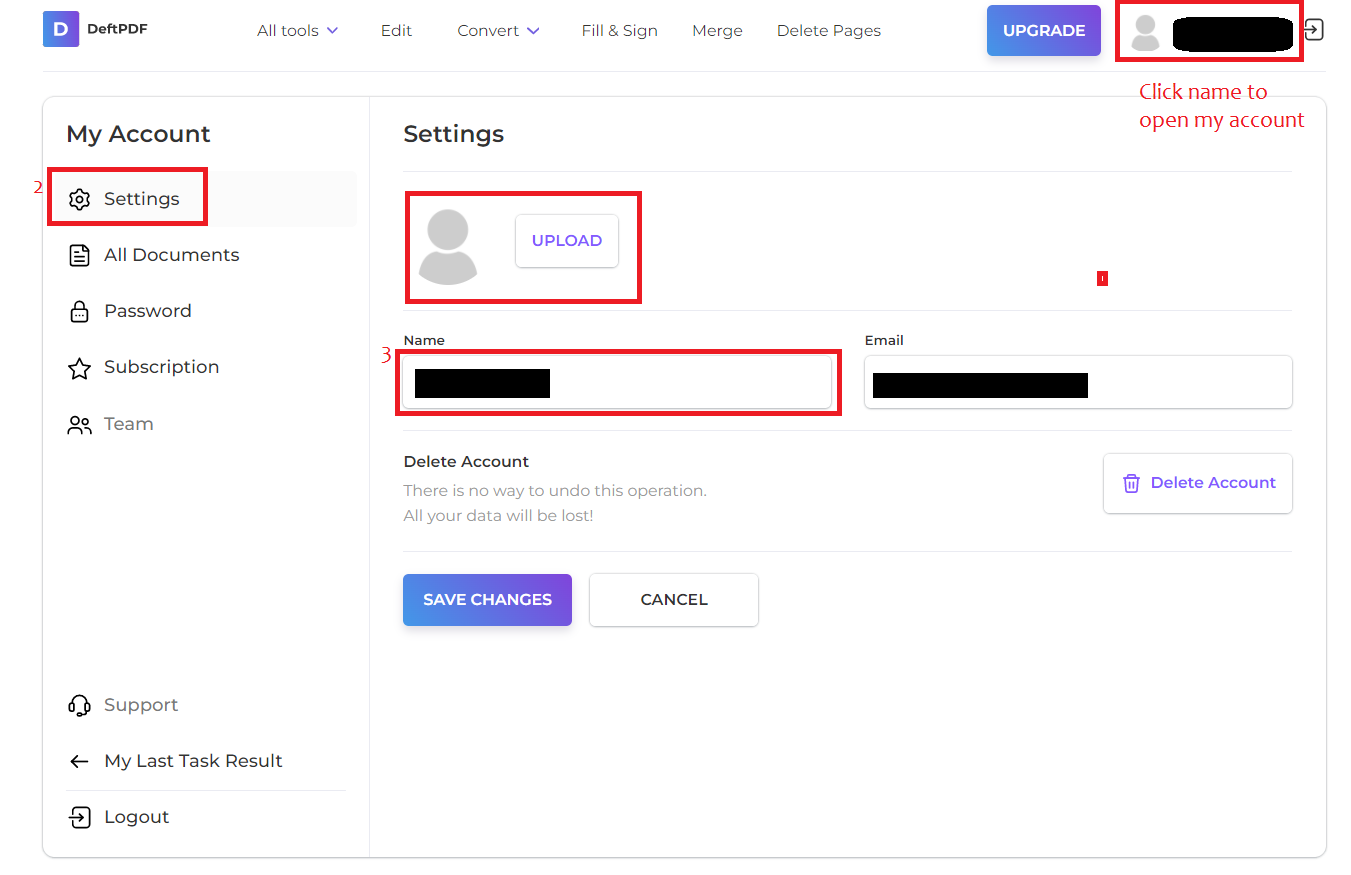 Click save changes.

You will see the validation that changes are made.
​​​​​​​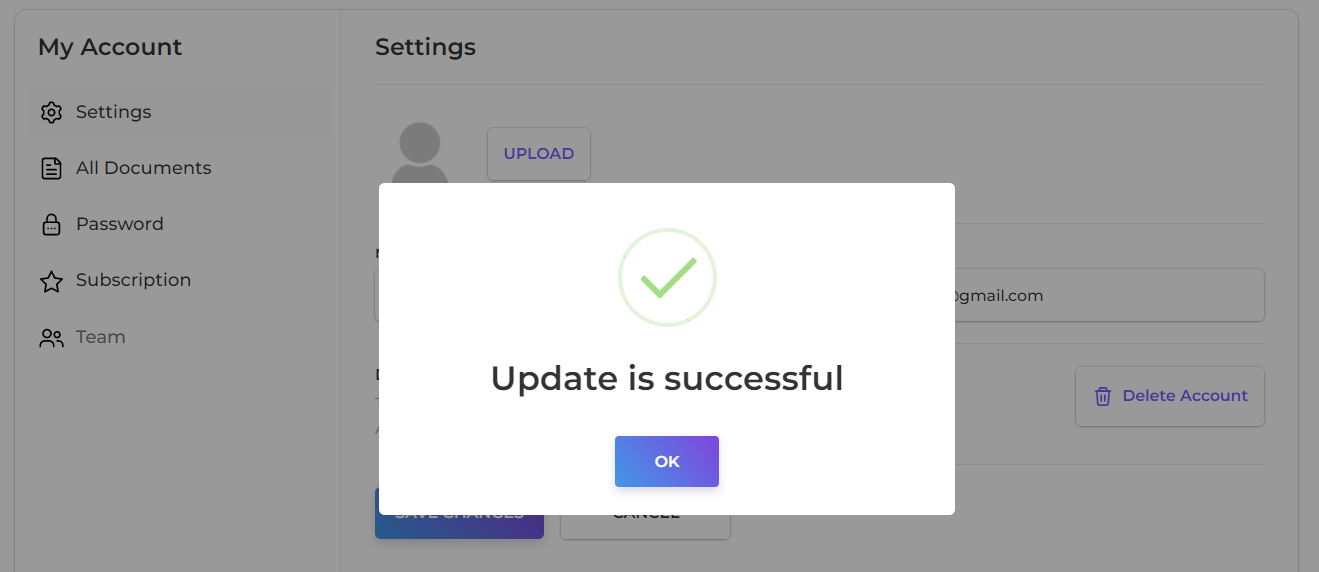 Step 3: Changing Password
Click Password under My Account

Input the current password then enter the new password on the corresponding textbox.

Click Change Password
​​​​​​​​​​​​​​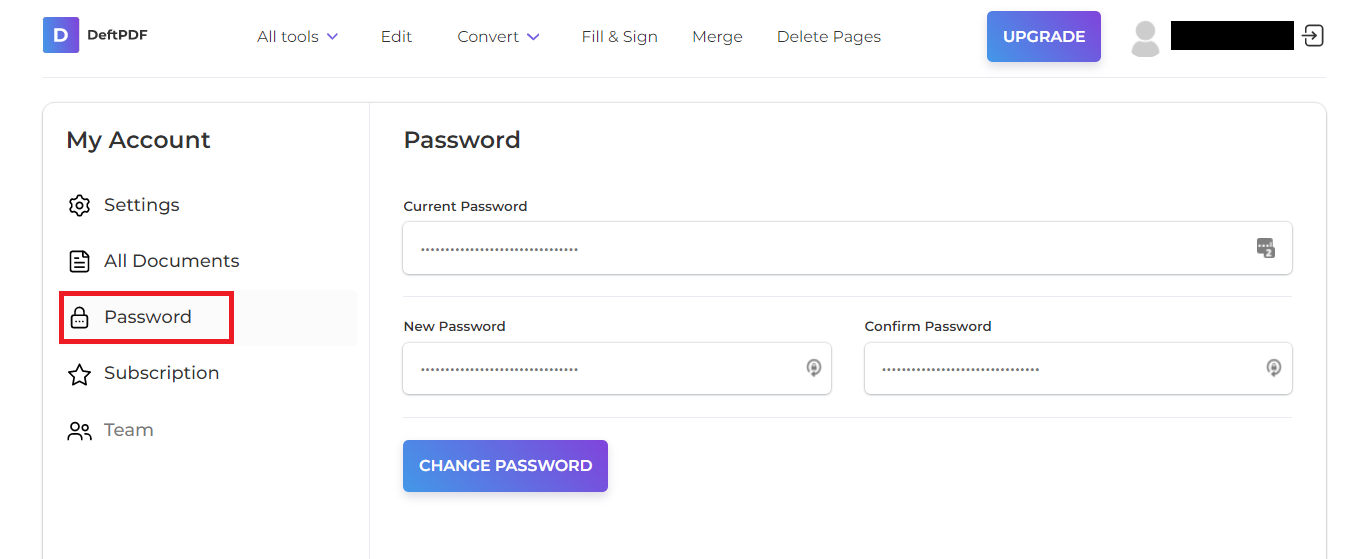 Step 4: Changing Payment details
Select Subscription under my account

You can click cancel the subscription to stop the renewal

You can add the new credit card and delete the old one to change payment options
​​​​​​​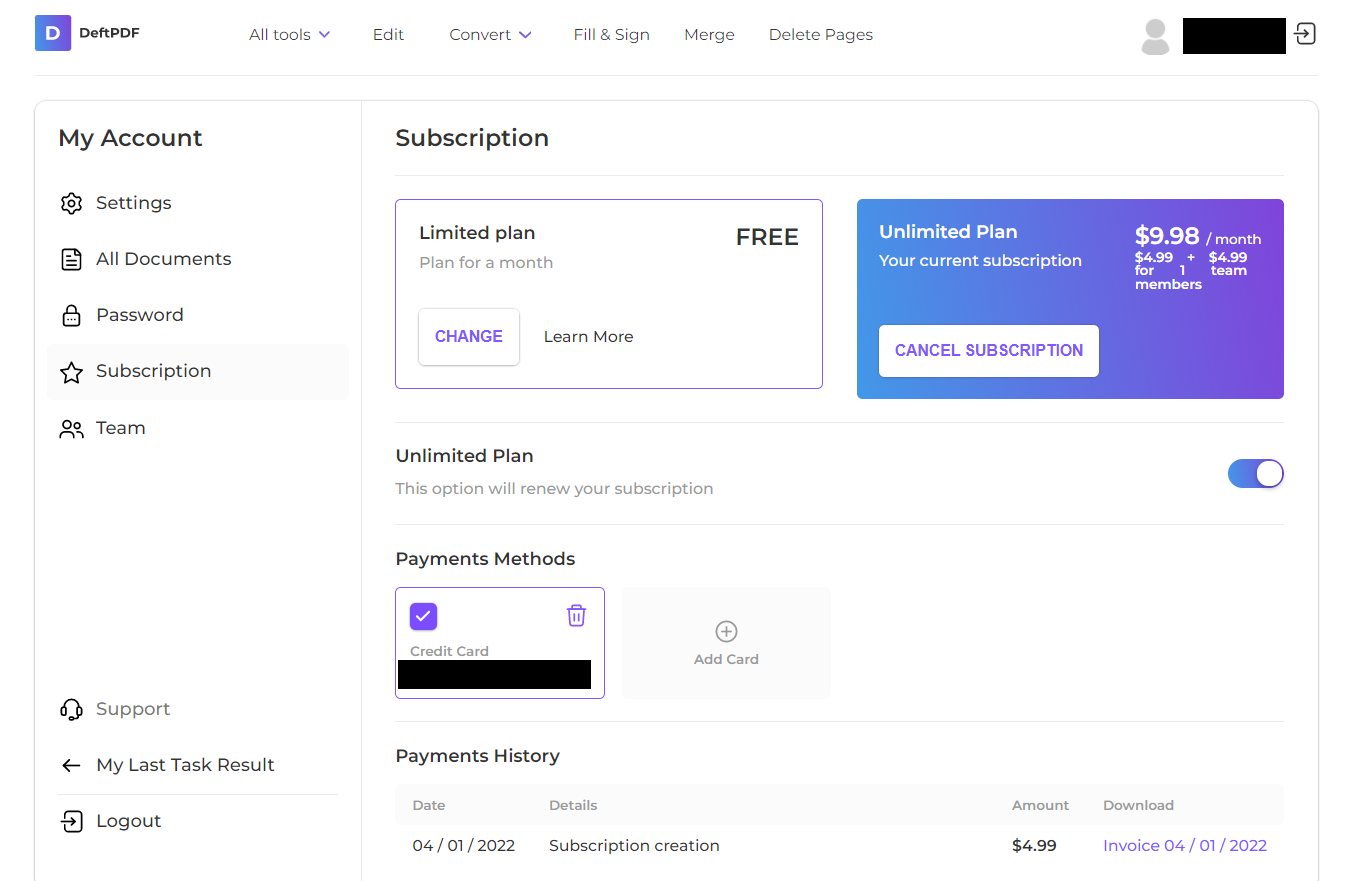 Step 5: Adding and removing team members
Select team under my account

Click Add Member and enter the email address of the person you want to invite

To remove a person from the list, click the three dots menu beside their name and click delete
​​​​​​​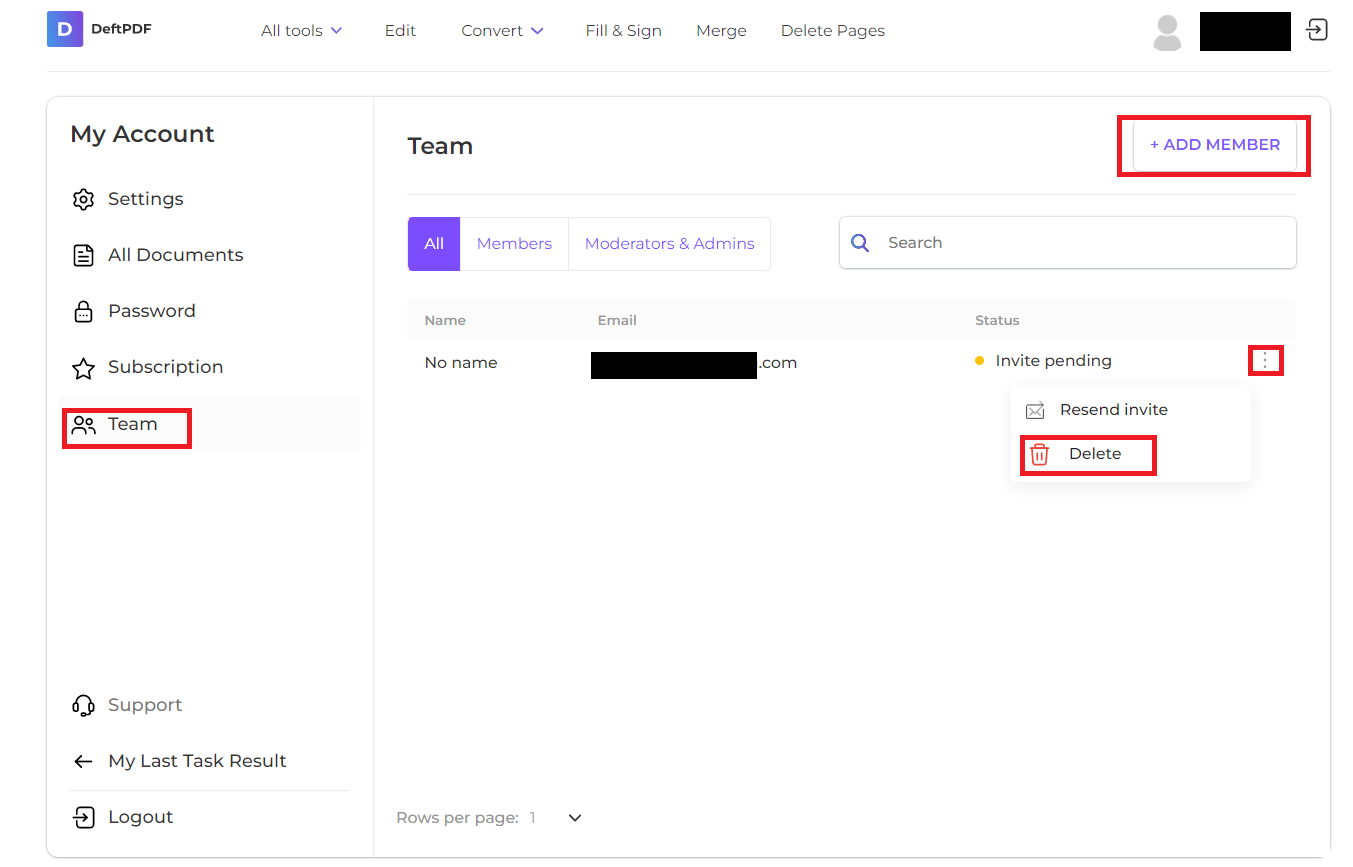 Excellent Points in DeftPDF's Pricing
DeftPDF is forever free to use with no subscriptions or registrations required. Though you can use the tools provided, you will have certain restrictions on the number of files to upload per process. For instance, you can only upload 1 file at a time for the PDF to Word tool.
DeftPDF has one upgrade plan offer and it is easy to understand. It is as simple as $4.99 a month, which can be paid at $49.99 annually. Each upgraded user will be able to enjoy these advantages:
Browser-based access to all tools

Unlimited document uploads

Batch processing

Larger allocation for file size per task

No ads

Team account

Comparing it to competitors, our pricing plans are much more affordable.
| | |
| --- | --- |
| PDF converter | Price per month |
| DeftPDF | $4.99 |
| Sejda | $7.50 |
| Soda PDF | $10 |
| Small PDF | $9 |
Want to get updates and subscribe to our blog? Get weekly e-notifications by creating a free account with us:

DeftPDF

online