Benefits of converting HTML to PDF file
08 / 3 / 2020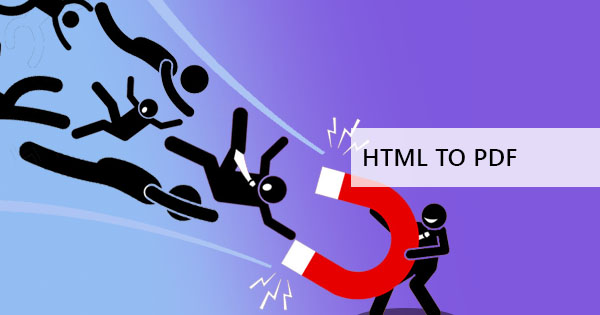 What is HTML? HTML is an acronym that means, Hypertext Markup Language (HTML). It is not a programming language, rather a Markup Language for creating documents or webpages and considered as the building blocks of the Website.
The purpose of HTML is to display format elements and describe the purpose of the text, using "tags" to markup a webpage. These so-called "Tags" build up the website's structure and come in pairs with a start tag and an end tag. You might also hear them called "opening" and "closing" tags.
HTML also defines all the content, text, embedded images and the links that you can click. These links can jump within the current page or it could be a different site.
How is this relevant to me?
HTML is present in all the things we do online. All the websites you visit use HTML to bring about the information you need. It could be a website, a blog or even a social network. All of these have HTML codes in them.
What does it mean for a developer?
Almost all of the web applications available online need PDF. Why? Because it makes the process of creating and developing a site faster. A Website Developer can agree with this as PDFs are useful in presenting draft layouts in PDF. Not only will it save on the company's time, money and online resources, it will also reflect what kind of useful information to write and what a web page will look like in an instant.
Highlighting the top 5 benefits of converting HTML documents to PDF file
Other than web development, converting HTML to PDF is gravely beneficial to common users and business owners alike. Positive marketing results can be obtained and efficiency can be increased.
View and Read Offline
Don't have enough internet data to use? Put down all your worries! You can easily convert those data and read them offline anywhere and anytime you want. HTML converted to PDF doesn't need the internet as they are already translated from code to flat objects that show the whole layout and data.
Easy to Edit
Do you work with a team and you want to highlight text and convey important information on the project? This might be the solution for you. Reviewing and annotating work on a PDF enables you to add highlights, strikethrough, and comments on the data itself. On another note, if you're a freelancer, this could also be a solution for work samples that need to be submitted fast. Feel free to use our online DeftPDF editor and converter for annotating or converting HTML to PDF. Once your HTML work is converted, it could be edited with the DeftPDF editor and allow you to edit the text, re-layout, insert images, and add links in your newly created PDFs.
Easy to Share and Print
As we all know, a PDF preserves the exact appearance of images and text of a document, no matter what device a user is using to view it, hence printing your documents will not result to a perplexed layout. You will always have the same output as what it looks on screen, therefore, easy to print!
Compressed data
Since PDF supports a wide range of image compression, it will give you the benefit of taking little storage on your hard drive even with so much data held on one file. Don't worry because even with compressed data, your converted HTML documents to PDF still retains the original text and layouts of your web page. You can save and share your PDFs on any device or operating system while maintaining document content, layout, and quality.
Isn't it expensive to convert HTML to PDF?
Technology nowadays is different. It's easily accessible and available online. Even converters as such can now be free. Here at DeftPDF, we offer you reliable and free PDF tools to help you with all your needs. Our tools are also web-based so there will be no struggles on handling it on any kind of operating system, may it be MAC or Windows.
If you have tons of HTML documents and got an upcoming presentation next week, or want to read offline several articles, let us help you with a Hassle-Free DeftPdft HTML to PDF converter.
Want to get updates and subscribe to our blog? Get weekly e-notifications by creating a free account with us:

DeftPDF

online