1. Upload Your Files
You can be assured that your files are safely uploaded over an encrypted connection. They will be permanently deleted after processing.
To upload your files from your computer, click "Upload JPG File" and select the files you want to edit or drag and drop the files to the page.
To upload files from Dropbox, Google Drive or from a website where your files are located, expand the "Upload PDF File" dropdown list and select your files.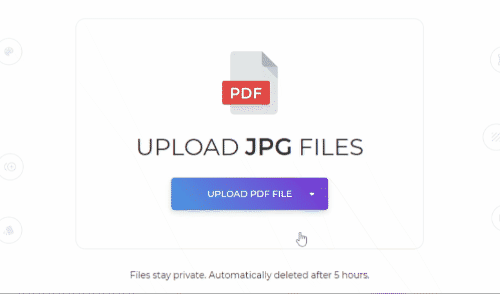 2. Customize Your Document
You can modify your file before you convert! Add more images or set the page size, orientation, margin, and order of files according to your liking. Choose from the following settings per element: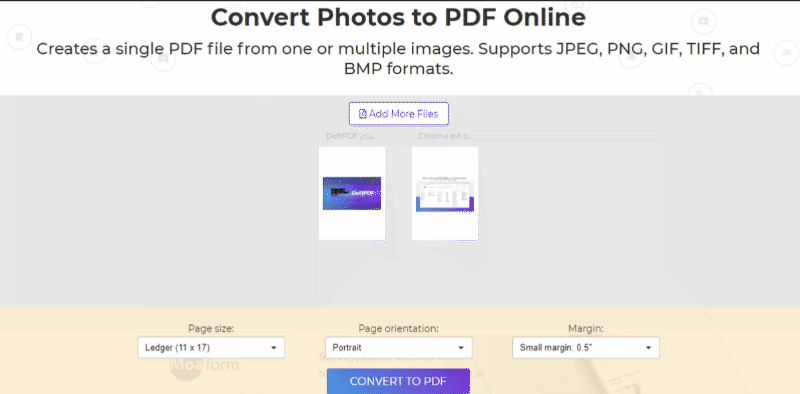 More Options:
a. Add More Images
In case you need to add more files to convert, click "Add More Files" and choose the images from your computer.
​​​​​​​
b. Page Size
Choose the preferred set up from the dropdown list. Your pages can be altered into the different sizes: A5, A4, A3, A2, A1, Letter, Legal, Ledger, Tabloid, Executive and Fit to Image.

​​​​​​​
​​​​​​​
c. Page Orientation
Choose your desired orientation from the dropdown list. Choose from: Auto, Portrait, or Landscape.

​​​​​​​
​​​​​​​
d. Page Margins
You can add margins from the following choices: None, Small Margin (0.5"), and Large Margin (1")

​​​​​​​
​​​​​​​
e. Rearrange Images
Sort your images per page by dragging and dropping the thumbnails.
​​​​​​​
3. Convert and Save
Once all the customizations are done, click "Convert To PDF" and select "Download" to save the PDF document in your computer. You can also upload your file to your online storage or print.
Quick tip: You can also delete a file by clicking the "x" mark on its thumbnail.