1. Upload your files
You can be assured that your files are safely uploaded over an encrypted connection. The files will permanently be deleted after processing.
To upload your files from your computer, click "Upload PDF File" and select the files you want to edit or drag and drop the files to the page.
To upload files from Dropbox, Google Drive or from a website where your files are located, expand the "Upload PDF File" drop-down list and select your files.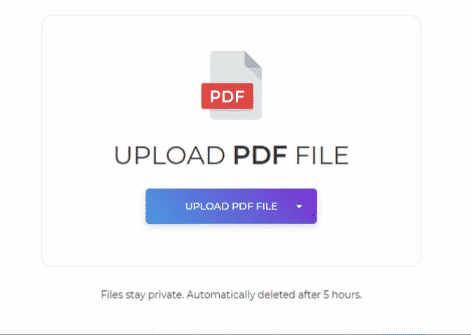 2. Converting Process
Once the PDF document is uploaded to the website, a thumbnail preview will appear. You can download a converted image one by one as a JPEG file by clicking the download button on the page. You may also convert it in bulk by selecting all pages that you wish to convert then click "Convert" found at the bottom center of the screen.
Modifications:
Image resolution: You can change the image resolution to – 72 DPI, 150 DPI, or 220 DPI. These image resolutions determine if the image should be small, medium or large in size. The bigger the DPI, the sharper the photo.
Image Format: You can also change the file format into PNG, JPEG or TIFF.
Image File Name: Change the file name of your converted file as preferred when downloaded. Simply click "More Options" and input the preferred file name on the text box.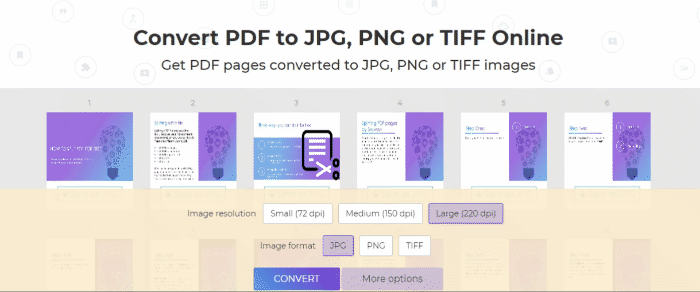 3. Download Your PDF Document
Download your file to save it on your computer. You may also save it in your online accounts such as Dropbox or Google Drive, share it via email, print the new document, rename or even continue editing with a new task.