1. Upload Your Files
You can be assured that your files are safely uploaded over an encrypted connection. The files will permanently be deleted after processing.
To upload your files from your computer, click "Upload PDF File" and select the files you want to edit or drag and drop the files to the page.
To upload files from Dropbox, Google Drive or from a website where your files are located, expand the "Upload PDF File" drop-down list and select your files.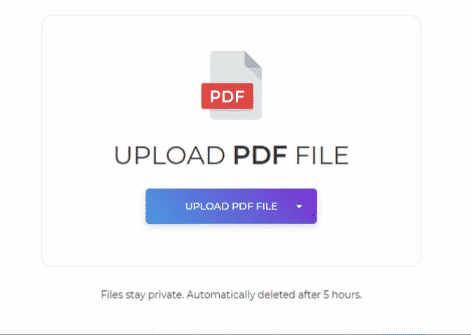 2. Re-arrange Your Files
Re-order or re-arrange your files by simply dragging and dropping the pages. You can also sort the file names alphabetically 'A-Z' or 'Z-A' by clicking on the "sort" buttons located at the right side of the page.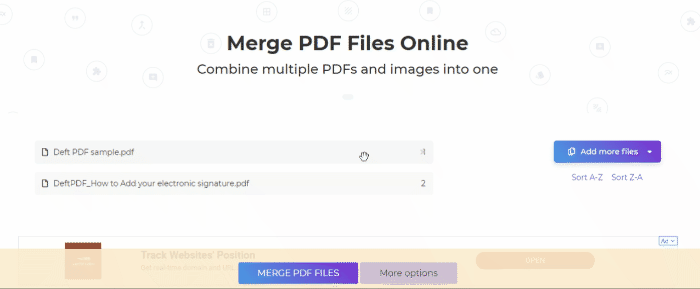 3. Select More Options
If you don't need to do any modifications on the documents, you can directly click on the "Merge PDF Files" button to merge files. However, if you want to do more, there are options available to customize your PDF before merging.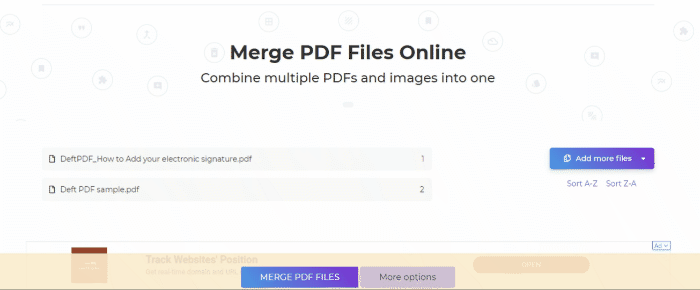 More options:
a. Double-Sided Printing
If your files have an odd number of pages, it would ruin the double-sided printing setup. To fix this, you need to insert a blank page at the end (as the last page). Select "Double Sided Printing" from the option.
If you don't want to merge all files, select the "Include only specific page ranges" from the options and specify which pages you want per file. Otherwise, just leave it blank.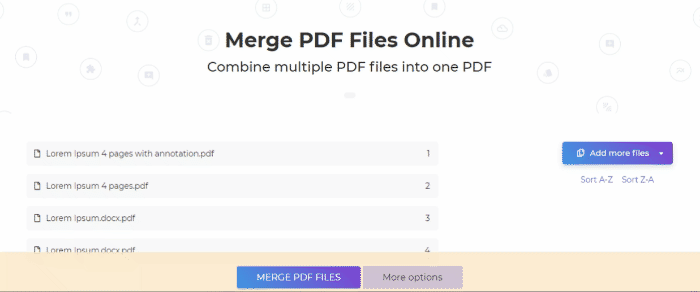 b. Bookmarks or Outline
You will also have an option to customize how the PDF document will be outlined. You can choose from:
Keep all

Discard all

One entry each document

Keep all, under one entry each document
c. Table of Contents
Table of Contents makes it easier for readers to navigate thru the document, especially with clickable links so you may want to add this as your starting page.

You can choose to use File Names or Document Titles. Otherwise, you can choose "None".
d. Add File Names to the Page Footer
Select and tick the box of the "Add filename to page footer" if you would like each page to have the original filename in the footer.
e. Form Fields
If your PDF files contain form fields and want them to be visible but not editable, select the "Flatten" option under the Form Fields category.

If most of your files have form fields, you may want to consider merging or discarding them completely. You can also merge and rename them to avoid duplicates.
4. Download the Document
After everything is set according to your preferences, click on the "Merge PDF Files" button and "Download" after processing to save it on your computer. You may also save it in your online storage such as Dropbox or Google Drive, share it via email, print the new document, rename or even continue editing with a new task.