1. Upload your files
You can be assured that your files are safely uploaded over an encrypted connection. They will permanently be deleted after processing.
To upload your files from your computer, click "Upload PDF File" and select the files you want to edit or drag and drop the files to the page.

To upload files from Dropbox, Google Drive, or from a website where your files are located, expand the dropdown list and select your files.
2. Converting Process
Once the PDF file is uploaded, a list of files will appear on your screen. You can upload as many as 10 files for the Upgraded Account while a free account will only allow you to process one document at a time.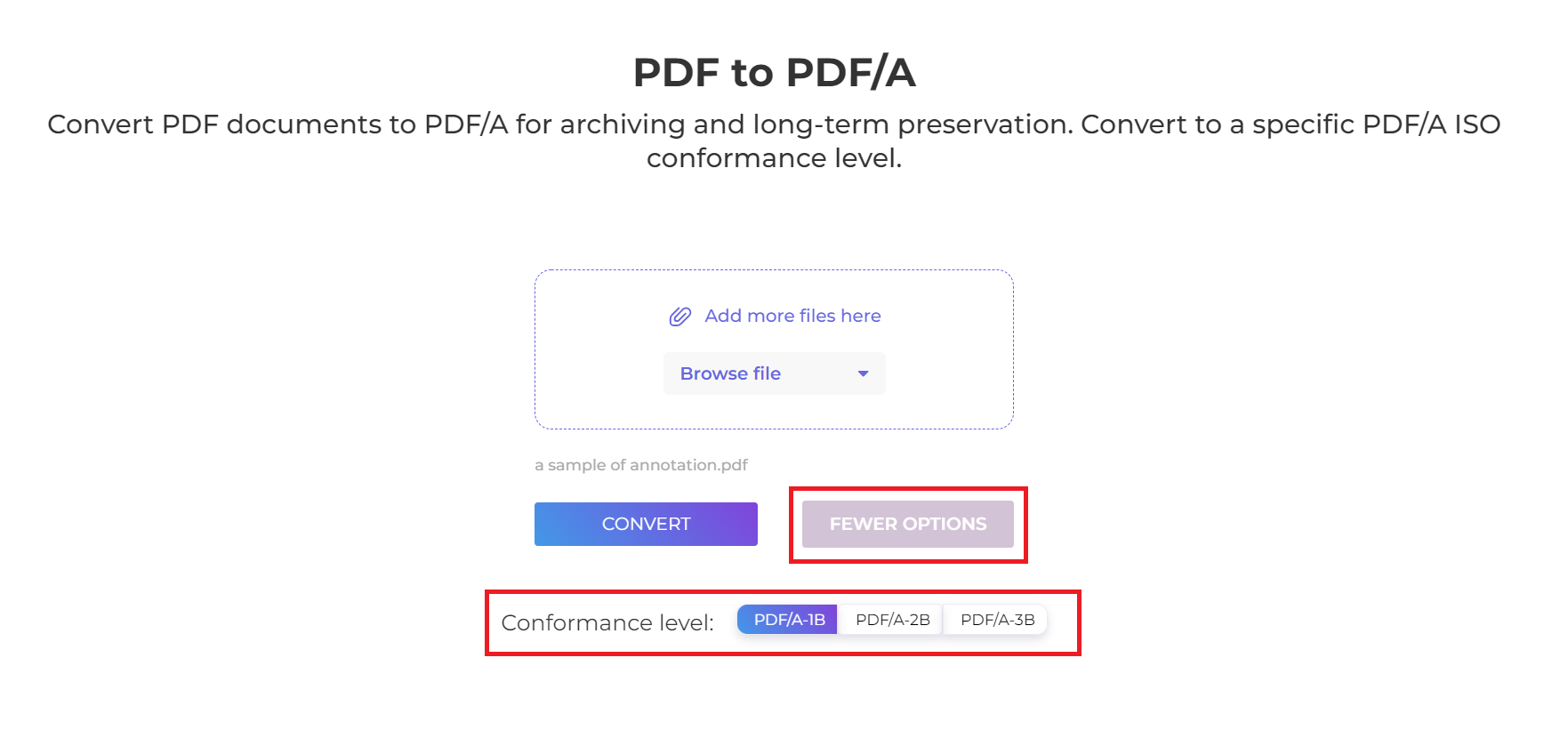 More Options
You may modify the conformance level output by clicking "More Options" and selecting the preferred subset format.
a. PDF/A-1B
By default, the output for conversion in archiving is PDF/A-1b otherwise referred to as Level B conformance. This subset format contains a minimal compliance level for PDF/A that conforms with the visual appearance of the electronic document with respect to the ISO 19005 standard. It ensures that the text and other content are reproduced uniformly and can be displayed on a computer long-term.
b. PDF/A-2B
PDF/A-2b is also a level B conformance with strict compliance with the ISO PDF specification. Like PDF/A-1b, it aims to create archival versions of documents with the intent that they will always render exactly the same as when they were saved. Additionally, in PDF/a-2b, graphics will be converted to a device-independent format.
c. PDF/A-3B
PDF/A-3b is a subtype of PDF/A-3 with a level B conformance. It is a constrained form of PDF intended for archiving, ensuring that the visual appearance of the file conforms to the standard and is preservable over the long term. But unlike 1b and 2b mentioned above, it has a significant feature that allows embedding within a PDF/A file.
3. Convert and Download
Click "Convert " once the modifications are set. Then click "Download" after processing to save it on your computer. You may also save it in your online storage such as Dropbox or Google Drive, share it via email, or print the new document.